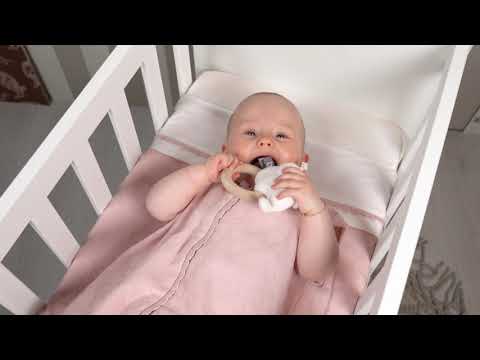 Specifications
Article number
BO-029.073.109.49
Baby's Only
Sleeping bag Reef ash mint - 70 cm
Reef, urban chic baby accessories for a conscious and trendy mommy to be. Made of 100% organic cotton.
£

34,95
£

31,40
£

25,95

excl. VAT
Description
Your baby will sleep lovely in this Baby's Only sleeping bag 70 cm from the Reef collection in the color Ash Mint. The sleeping bag is made of 100% organic cotton, feels extremely soft to the touch, is very flexible and sustainable. The Reef collection characterizes itself with its lively and unique diamond-shaped knitting pattern, it gives the nursery an urban chic look. The Reef collection has a wide range of baby accessories in the colors misty pink, dusty grey, urban taupe and ash mint. Combine the sleeping bag with for example the Reef blanket and sheet. This baby sleeping bag is available in two sizes: 70 and 90 cm.
WARNING: Do not use the sleeping bag anymore when your child can climb out of the bed. Do not use this sleeping bag in combination with other bedding. A suitable sleeping temperature for children is 16-20°C. A few factors that can influence the temperature are the climate, room temperature, body temperature and how many clothing the child is wearing. Remember the room temperature and the amount of clothing your child is wearing, make sure your child is not to warm or cold.
Washing advice
30 °C machine wash, permanent press
Do not bleach
Do not dry clean
Iron at low temperature
Trumble drying (low temperature)
Warning
Do not use if the child can climb out of the cot. Do not use in combination with other bedding items.
Excellent to combine with..
Hot water bottle cover Reef ash mint
Article number
BO-029.027.109.50
Baby's Only
£

19,95
£

17,95
£

14,83

excl. VAT
Music box star Reef ash mint
Article number
BO-029.659.109.50
Baby's Only
£

34,95
£

31,40
£

25,95

excl. VAT
Bed/playpen bumper Reef ash mint
Article number
BO-029.042.109.50
Baby's Only
£

79,95
£

71,95
£

59,46

excl. VAT
£

34,95
£

31,40
£

25,95

excl. VAT
Recommended price

£

28,88