You've probably heard about the different stages of development that babies go through. Educational toys support the baby at the level they are currently at in their development. What may appear to be a simple toy can provide a lot of challenges and experiences for a baby of a particular age. What types of educational baby toys are there? Depending on the age, the toys will vary significantly. If you are looking for educational toys for a 1-year-old, you will find something quite different from what you would search for as educational toys for a 6-month-old baby. Educational toys for 1-year-olds focus more on problem-solving, while toys for the youngest babies are still primarily about physical activities like grasping and holding.
Why is educational toys important?
A baby grows not only physically but also mentally. The control of muscles happens in the mind. By providing the right tools at the right times to your baby, you can support their development. What is educational toys good for? It's about developing spatial awareness, cognitive skills, stimulating creativity and thinking ability, and practicing fine and gross motor skills. Toys are essential in this process. The development and the timing when specific toys are suitable vary from child to child.
What does educational toys mean?
Educational toys are designed with the baby's or child's development in mind. When designing these toys, consideration is given to physical development, cognitive development, and motor development. The meaning for educational toys for babies 6 months and older is more focused on sound and sight and cause and effect. For example, moving a rattle leads to a fun sound. At a younger age, a baby is less likely to have interest in this type of toy. At an older age, the toy may no longer be challenging enough.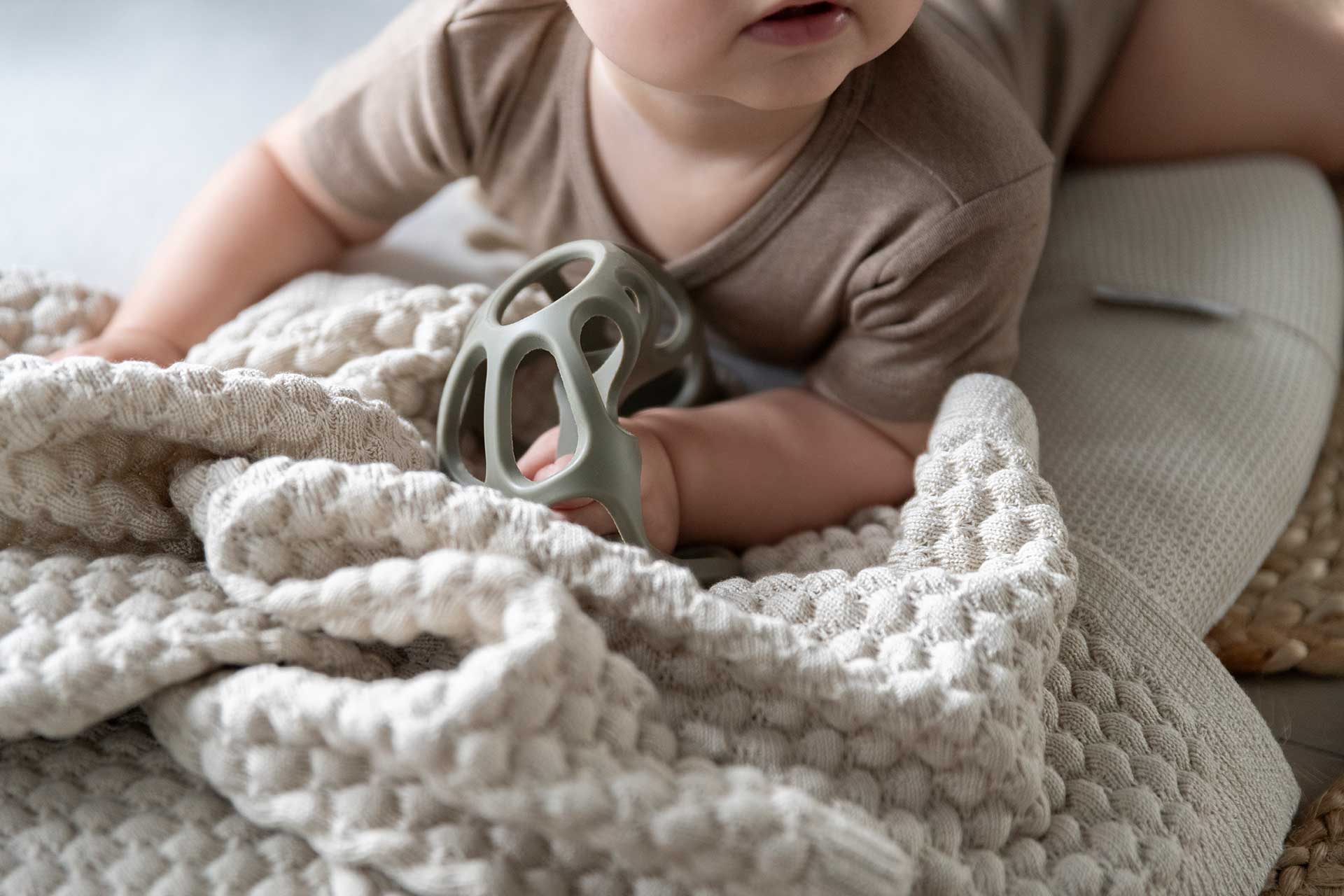 Toys for 0-3 months
In the age group of 0-3 months, a baby is actually too young to play independently. A mobile with moving figures or a soft melody to look at can be comforting. Even here, a baby at this age can experience too many stimuli. Around 3 months, a playmat can be enjoyable. In the beginning, playtime with toys will always be short, but it will become longer later.
Toys for 3-6 months
In the 3-6 months phase, teething toys can be soothing. A rattle can also be pleasant. Toys to promote motor skills can be introduced during this phase of development. Stuffed animals may become popular in this stage.
Toys for babies 6-12 months
In this phase, most babies will be able to do much more. Educational toys that go along with this stage can be more challenging. Think of a ball, building toys, and puzzles. From this age, children learn to sit by themselves and take their first steps. Our shape puzzle is also popular from 6-18 months. The broad time frame indicates that not every baby is in the same phase at the same time. Keep this in mind when choosing toys.
Educational toys for 1 year
Toys for a 1-year-old baby are very different from what we started with in this article. In this stage of development, most babies crawl, can sit by themselves, and sometimes even take a few steps. A stuffed animal remains beloved and is always a great baby gift. Puzzles and building blocks also continue to be interesting well into their toddler years. However, your baby may be ready for a more challenging level. If you are looking for a puzzle for educational toys for 2-year-olds, it will be much more challenging than the one for 1-year-old babies.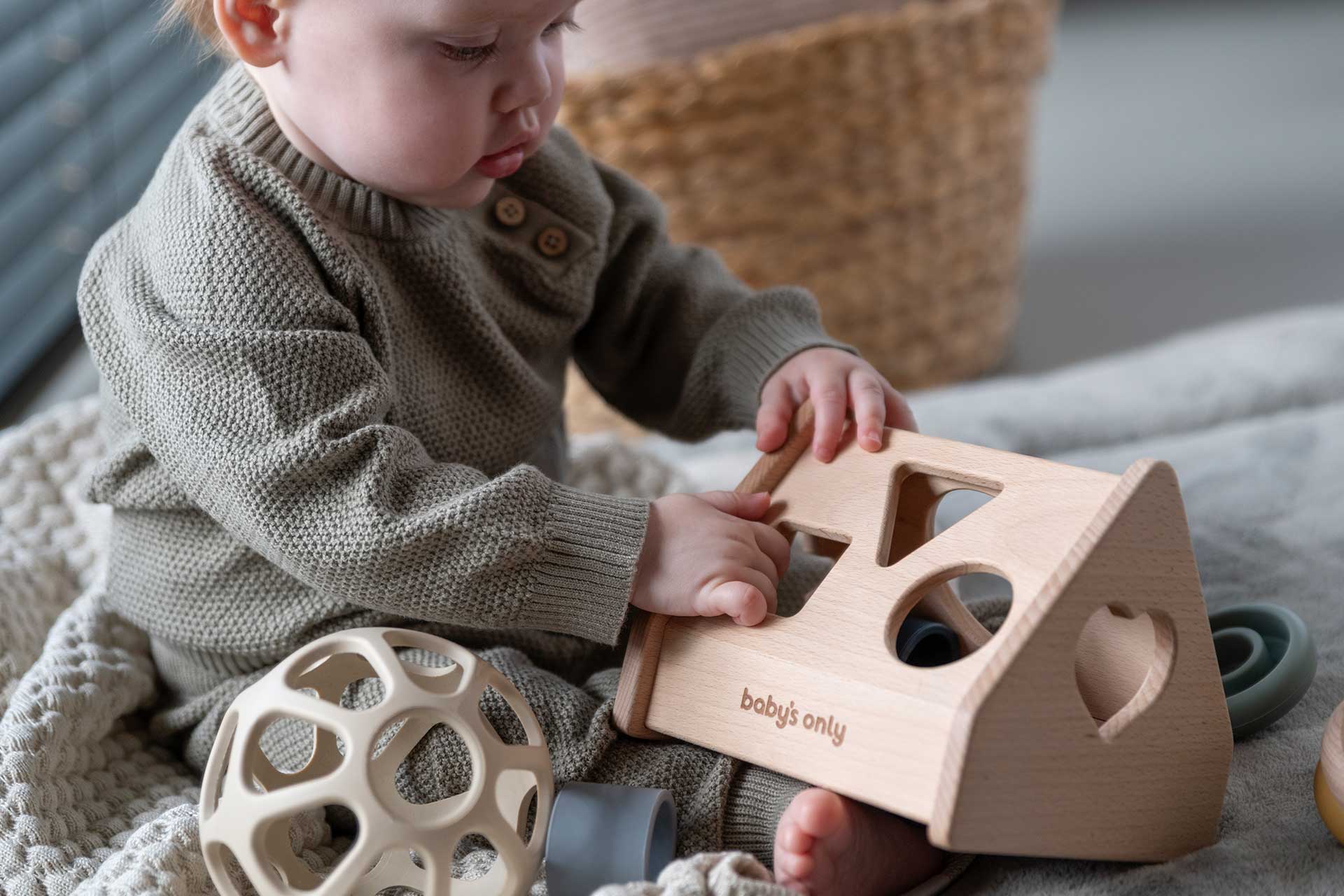 Baby's Only, Specialist in Toys for the Little Ones
What is pedagogically responsible toys? At Baby's Only, we have spent a lot of time developing our toys. Educational toys for 1 year are different from those for very young children. We specialize in the baby age group. So, you will still find toys like stacking towers and puzzles in our online shop, but not bicycles or kitchens. You can shop successfully with us for educational toys up to 3 years old, after which we would refer you elsewhere.
What to consider when buying baby toys?
The stage of development is crucial when choosing baby toys. When you give your baby toys for the first time, stay with them to see how they experience it. Even a music box or mobile should not be left on for too long at a young age.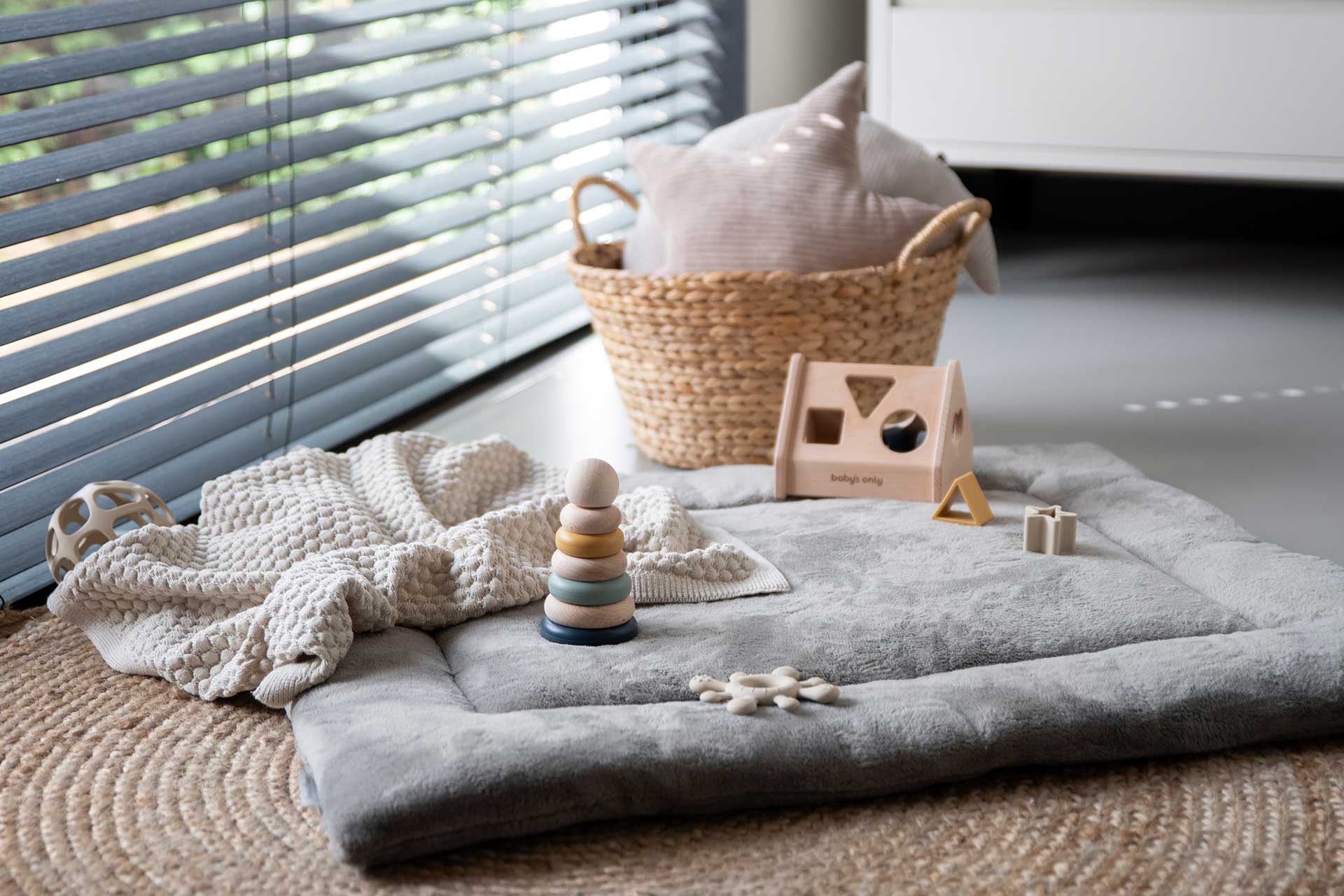 Supporting the developmental stage
Remember that every development stage must be gone through, and a baby continues to develop in all ways. So, it's not first gross motor skills and then fine motor skills, but both at the same time. Your baby may learn to pick up objects with their thumb and forefinger at 7 months, but it may take about a year before they can start building a block tower. Gross motor skills also continue to develop; first, it's learning to sit and crawl, and later, it's walking. Toys that a baby can use their entire body with quickly fall under practicing gross motor skills. So, continue to stimulate both with age-appropriate educational toys.
Baby toy offers
Don't let the price deter you from buying the right toy for your baby. Just because your baby may lose interest in it in a few months doesn't mean the toy hasn't been beneficial for their development. And if you're looking for cheap baby toys, check out our baby sale. Here, you'll find high-quality toys at discounted prices.
Other products in this series
Questions? Contact us
We can understand that as new parents, you may have questions. Don't worry; we are the specialists in baby items. Our range now includes over 1800 products. From practical baby items for sleeping and care to educational toys; you'll find everything with us, and you can seek advice on all these products. So, contact us now and take advantage of our broad knowledge. We look forward to hearing from you.