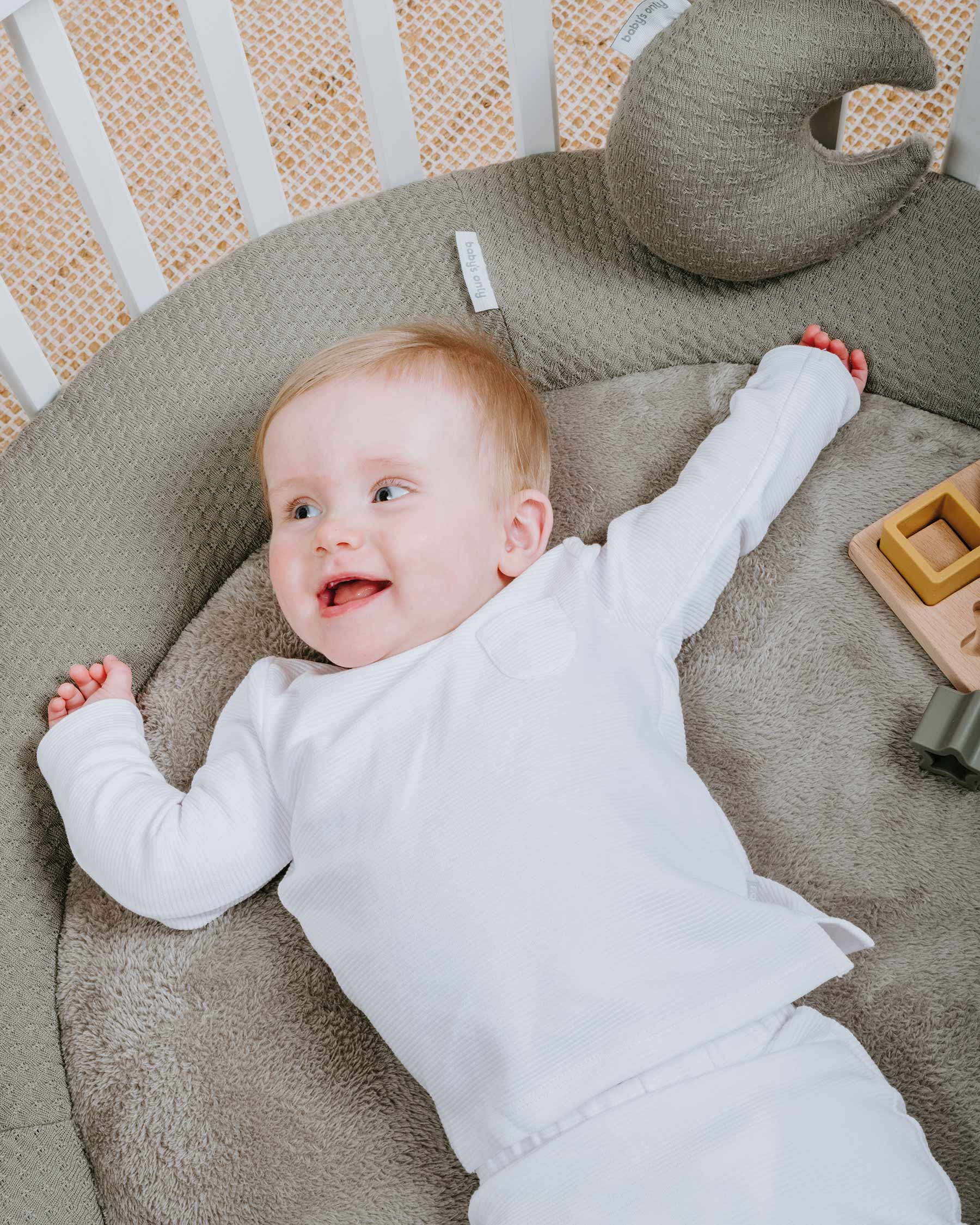 Transform your baby playpen into a soft playing paradise
When you have a quick chore or phone call, of course you want your baby to have a good time in his or her baby playpen. With the Baby's Only fun accessories and decoration of the baby playpen, your child will be perfectly happy and you can have a moment to yourself.
Baby playpen furnishings: soft playpen mats and bumpers
Nothing is more fun than cosily decorating your playpen for your baby. At Baby's Only choose from a wide range of soft playpen mats, bed bumpers and other furnishings for your baby playpen. Are you going on a maternity visit soon? Then these playpen mats and bumpers are a handy and original gift to give to the mother with her newborn baby.
Playpen mats
Baby's Only playpen mats for your baby playpen are extra thick and soft, so that your baby always lies comfortably in the playpen. Want a baby playpen cover that is extra soft? Then you can also choose to buy a playpen mat with an extra soft lining on both sides. And, did you know that almost all baby playpen covers are knitted? Baby's Only has a wide range of different knitting patterns and styles.
Playpen bumpers
A playpen bumper or playpen surround, serves as a safe surround for your baby playpen. The playpen bumper is also a cosy decoration for your baby's playpen, and creates a sheltered play area at the same time. Make sure to attach the playpen bumper securely to the bars of your playpen. If you don't, your baby might pull it off while playing.
The nicest playpen accessories for your little one
Besides the decoration of your playpen, you also want your baby to have fun in it. You can make your playpen more fun for your baby by placing baby playpen accessories. At Baby's Only, you can choose from a wide variety of toys, cuddle cloths and mobiles. Then store these conveniently in our special playpen bag so that the nicest toys are always within reach.
A music mobile for in your baby playpen
A music mobile (or a smaller music box) is really a must-have for in your baby playpen. Your baby will be introduced to all kinds of new tones and sounds while lying softly on the playpen mat. But, a music mobile also does much more. At a slightly older age, your baby can practise hand-eye coordination by playing with the figures hanging from the mobile. Prefer a smaller size? Then a baby music box is also great for the playpen!
When it comes to baby playpen accessories, don't forget cuddle cloths and stuffed toys
What would your baby do without his or her favourite cuddle cloths and stuffed toys? Stuffed toys or cuddle cloths are baby playpen accessories that make your baby feel less alone without your presence. A stuffed toy ensures that a baby has something nice and soft to cuddle with.
Create your perfect playpen for babies
You can buy an awful lot for your baby playpen at Baby's Only. Buy baby playpen accessories in the same colour, such as a pink playpen mat with a pink playpen bumper. And match the baby toys with matching colours. Be sure to check out other combinations to create a fun, playful environment. The colours of the entire collection go well together. For example, choose a pink playpen mat and the playpen bumper in a contrasting or complementary colour. This gives a creative look.
Are you going on a maternity visit soon?
Then quickly order the very best baby box gifts at Baby's Only. The accessories and decoration for your baby playpen turn every playpen into a wonderful sleeping and playing environment for your baby. Do you have questions? We're happy to help you out. Just fill in the contact form on our website. Before you click on your shopping basket, we recommend to always check out the special offers page. Because you can find products here at a special price, you might just be able to pick up something nice with extra benefits.
FAQ
There are some questions we like to answer. Do you have another question? If so, you can
contact us
anytime.
How long can a baby be in the playpen?
How long can a baby be in the playpen? That varies a lot for each baby. The Gelderland-Zuid Municipal Health Services, for example, indicates that the age at which your child no longer wants to be in the playpen is between 8 and 18 months. So it is very different for each child how long they want to stay in the playpen.
What is a good playpen for baby?
Playpens of various brands are similar, the baby playpen model with adjustable bottom is popular. The high position is then used for really young babies and later, when the baby is bigger, the bottom of the playpen is lowered. The playpen mat plays a big part in what makes a good playpen. A playpen mat that is too thin is not recommended but a playpen mat that is too soft and thick can be dangerous. That is why a specific playpen mat is made for the baby playpen and it cannot simply be replaced with an activity mat. However, conversely, a playpen mat can be used as an activity mat.
Is a playpen necessary for a baby?
Yes, in our opinion, a baby playpen is absolutely necessary. You can also see this from the age; certainly for a little one, but also for a toddler the baby playpen can be a nice, quiet and 'personal' place. You do hear stories of people who leave the baby playpen for a bit longer it, and notice a renewed interest in it. For parents, too, it can it can be nice to put the baby in the playpen for a while, even if he or she is actually past the age of the baby playpen. After all, it is a place the baby or toddler cannot crawl out of on their own, and can unwind.