Musical mobiles
The Baby's Only musical mobiles come equipped with well-known stuffed animals in miniature form. Each musical mobile plays a soothing tune. Easy to attach to any playpen or baby bed. The musical mobile is available in various colours.
Filter within
Music mobiles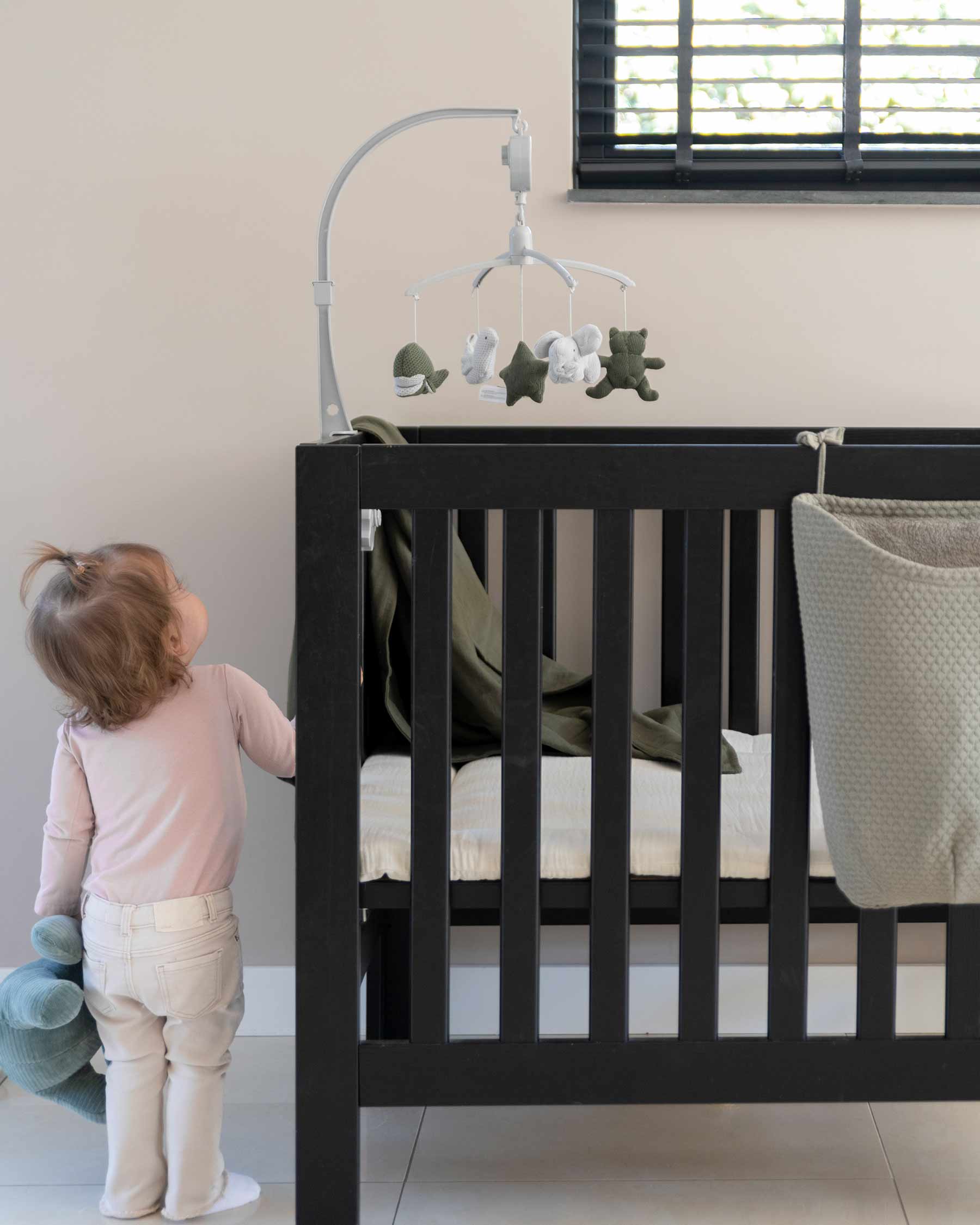 Baby's Only music mobile
Babies love moving objects and music. A music mobile combines the best of both. It is therefore not surprising that music mobiles are available in so many shapes and sizes, each with its own tune. What makes a Baby's Only music mobile so special are the small knitted stuffed toys hanging from the mobile. These animal friends are mini versions of the larger ones, available as stuffed toys or music boxes.
Trendy playpen mobile
The Baby's Only music mobiles are also very suitable as playpen mobiles. They are easy to move and attach to the playpen. Your child will have hours of fun while the moving friends happily spin around and the song 'It's a small world' is played. With its stylish look, the playpen mobile (music mobile) will not look out of place in the living room.
Music boxes
Besides music mobiles, Baby's Only also has music boxes in its range. These knitted stuffed music boxes feature a drawstring and are intended as decoration in the baby room or attached to the playpen. Both a Baby's Only music box and music mobile are often given as (maternity) gifts, just like the Baby's Only baby toys.
Why buy a music mobile?
A music mobile is a fun and playful way for your child to discover the world around them. Because you hang a music mobile directly in your baby's field of vision, your baby can watch it while lying in the playpen. Unlike for older children, a baby's field of vision is much smaller. Therefore it is very important what you hang in your baby's field of vision. Staring at a white ceiling is much less interesting for your little one than the cute figures of a music mobile. With a music mobile, your baby playpen gets a cosy look and meanwhile your baby can be occupied with something and at the same time relax.
Music mobiles for extra relaxation
Babies will be more relaxed thanks to music mobiles. A music mobile will help your baby to fall asleep comfortably. It gives your little one a point to look at, something that moves and makes a sound. When your baby gets older, he or she will reach for it with their hands. This helps develop motor skills. A baby music mobile is therefore not only for the littlest ones. Good to know: your child should not be able to touch the music mobile. When your baby starts sitting up to reach it, the music mobile should still be out of reach.
Buying a music mobile from Baby's Only
Buying your music mobile at Baby's Only is very easy. If you order on working days before 8 pm, your order delivered the next day. In most cases you will receive your music mobile the next day. Moreover, you have 30 days right of return. Is this your first time ordering from Baby's Only? Then this is a great way to get to know our high-quality products. So order today.