Activity mats
A soft play mat and baby gym in once, that's what the Baby's Only play mat is. Ideal for at home or on the go. With this play mat, your baby can play safely and softly anywhere. The well-known baby stuffed-animals hang in miniature on the arches and stimulate the senses of you child.
The Baby's Only play mats consist of a round play mat and two removable arches. These arches enable you to easily carry the play mats anywhere.
Filter within
Activity mats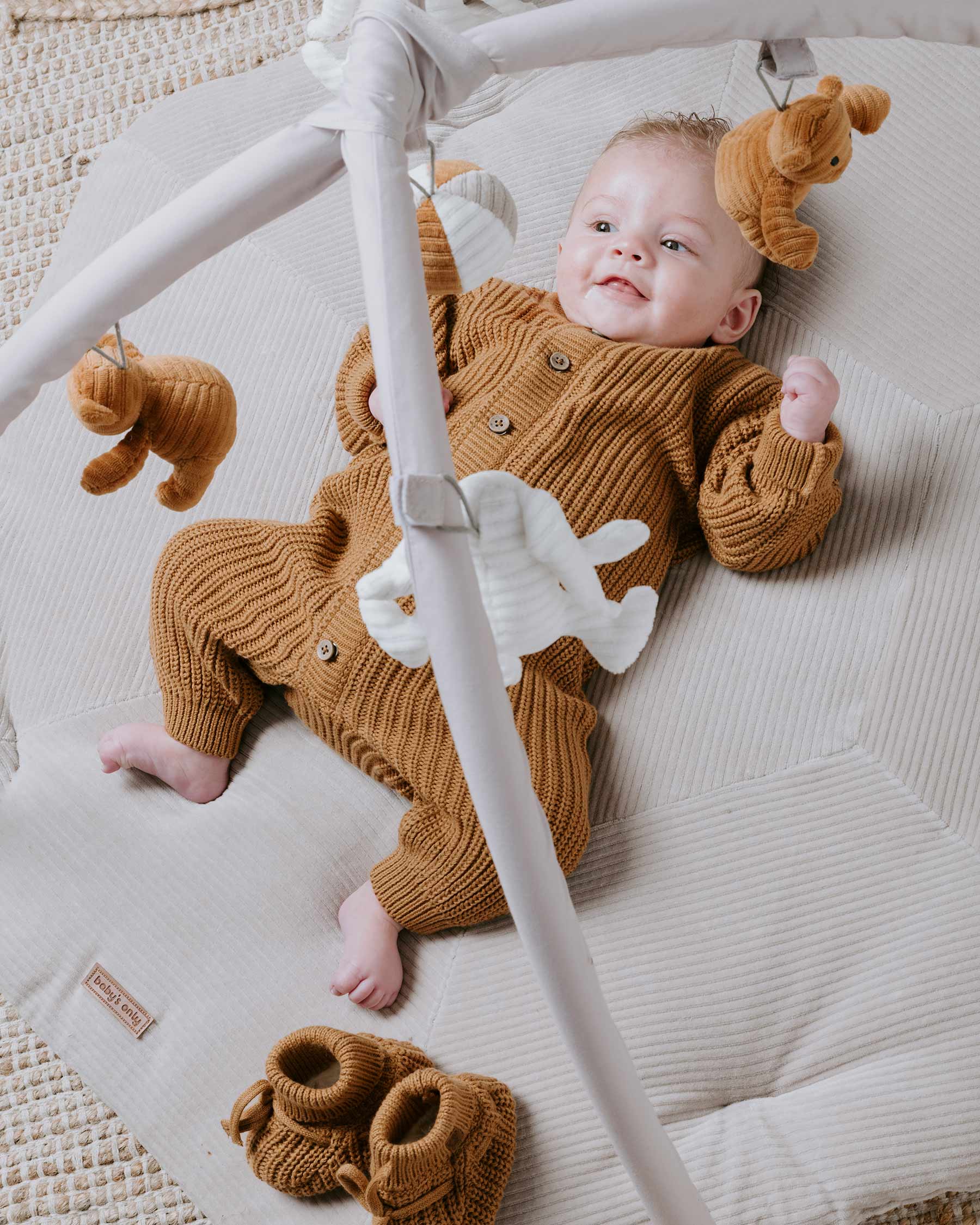 Fun for your baby
Of course you want to cuddle and play with your baby all day long, but sometimes you also need to have your hands free. An activity mat is then a godsend. The Baby's Only activity mat stimulates your baby's senses. The bear has a squeak, the whale a little bell, the bird a little crackle and the ball a little mirror in the centre. Your baby will be entertained while you have your hands free to do something else.
Baby's Only activity mat
The Baby's Only activity mat is available in soft pastel colours, matching the rest of the collection. The middle piece is made of soft teddy fabric, so your child lies warm and comfortable on the mat. The outside is made of soft knitted fabric, just like the mini stuffed toys hanging from the play arches. Your little one can safely sit, roll and crawl on the activity mat and won't get bored; thanks to the animal friends, playtime fun is guaranteed.
Play mat and baby gym in one
A baby gym lets your little one practise hand-eye coordination and motor skills. The Baby's Only stuffed toys on the play arch invite it to grab them. You can also replace the stuffed toys with other toys. The activity mat is nice and soft and perfect for hard floors.
Activity mat on the go
The Baby's Only activity mats are very practical to use and can be taken anywhere. The two play arches can be easily removed and snapped back on again. The small, knitted stuffed toys hang securely on Velcro fastenings and can also be replaced with, for example, a music box.