Wooden baby toys
The wooden toys of Baby's Only offer many advantages for your child. The natural structure in our sustainable toys is good for the fine motor skills and in a playful way your child learns to discover the world. From a rattle to a toy car. Fun and educational!
Filter within
Wooden toys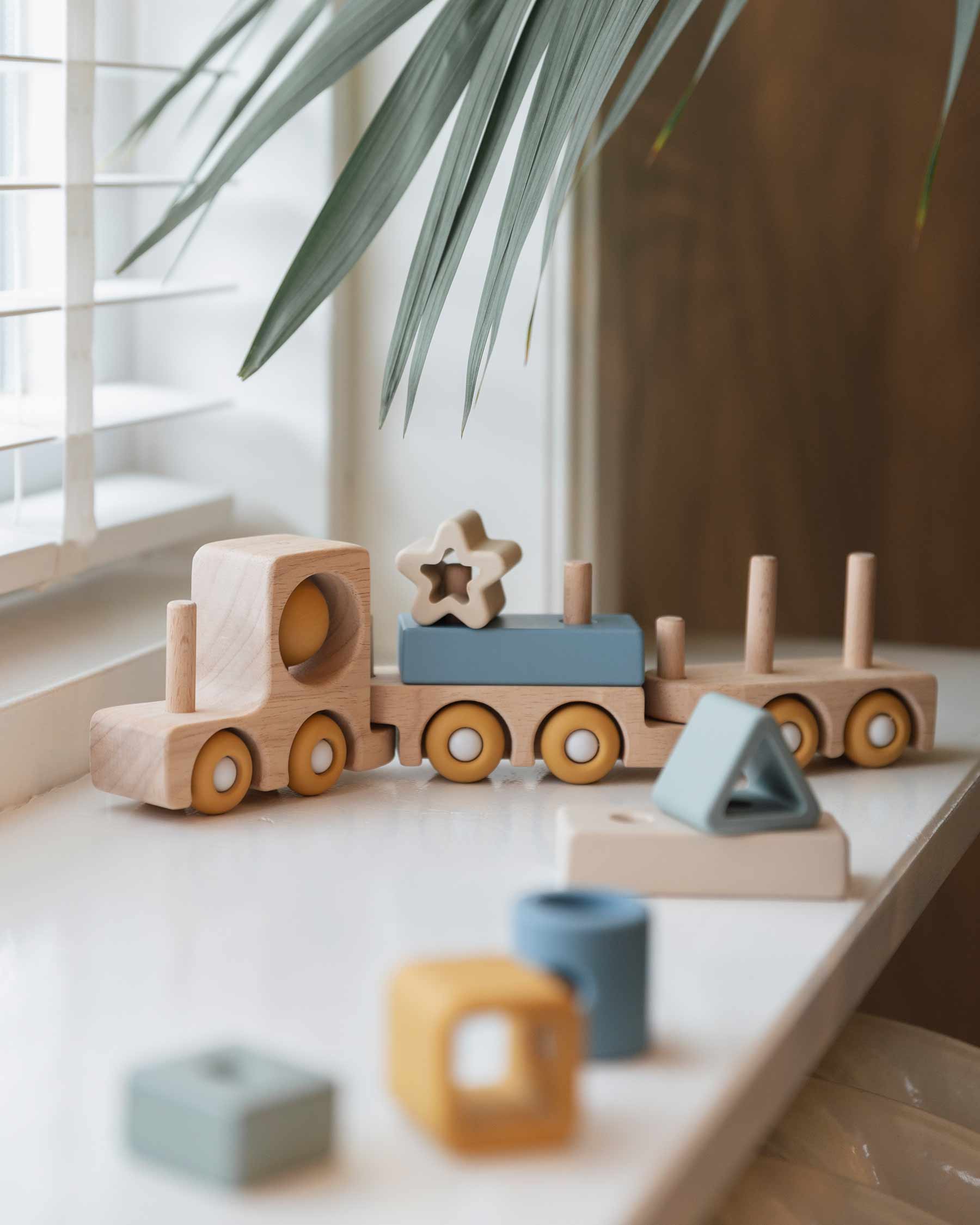 Buying wooden baby toys
Why are wooden baby toys the best choice? Wood is a natural and durable material. It has a beautiful look and feels nice for your baby or child. Wooden baby toys are of all times and never go out of style. Want to make your baby happy with our range of wooden toys? You will definitely succeed. Not only are the toys very beautiful and soft, the prices are soft too. For around 10 euros you can already buy beautiful wooden baby toys.
Why are wooden toys better?
Wood is a natural product which makes it less harmful to the environment. There is another important reason to choose wooden baby toys. The recent years, there has been increasing concern about toxins in plastic. Especially products from faraway countries were still sometimes found to contain excessive levels of toxic substances. A baby puts everything in its mouth, you can imagine that wooden baby toys are better than plastic ones whose ingredients you don't know. If the toy is worn out, the environmental impact is also low. In short, choosing wooden baby toys is choosing sustainable baby toys.
Which wood is suitable for toys?
Wooden baby toys can be better than plastic ones, but the wood should be suitable. We use high-quality FSC wood for our baby toys. The product has a perfectly smooth finish. When making our wooden baby toys a lot of attention is paid to the shape. Because we have many years of experience we can say with certainty that our baby toys will be to your liking. Do you notice that your baby is not interested after all? We have a flexible return policy of 30 days.
What are good toys for babies?
When buying wooden toys for baby or child, you have several choices. What is a good toy for babies depends on their age. Buy wooden baby toys for a 6 month-old baby that is more focused on touch, sight and hearing, such as a rattles, teething ring or cuddly toy. For wooden toys for a 1 year-old, you can pay more attention to how they can be can be actively played with. Think blocks or a simple puzzle that your little one can play with on an activity mat.
Teething ring or rattle with wooden ring
It is nice to know that besides playing, the teething ring also has a soothing effect. When a baby's teeth come through, this is an unfamiliar feeling. Your baby experiences pressure on the gums, which can lead to crying. A teething ring provides counter pressure. When looking for a wooden toy for a 3 month-old baby, consider a teething ring or rattle with a wooden ring.
Wooden Baby's Only baby toys
Wooden Baby's Only baby toys have been around for years and are enjoyed by many parents, grandparents and others as gifts or maternity presents. Customers give us an average rating of 9.2. We sell our products in 25 countries and in 800 shops. We can therefore offer the service that comes with selling baby items. For example, do you have a question when buying wooden baby toys? Or a question about cleaning wooden toys? Contact us with all your questions and get advice.