When can you put your baby in the playpen? You can start putting your baby in the playpen shortly after birth for a brief period. Always supervise during this time. Around 3 months, your baby can also start playing in the playpen. Since the playpen is usually situated in the living room, your little one can be part of the action and get accustomed to the sounds. Because the playpen holds such a prominent place in the living room, it's fun to decorate it nicely. In this article, you'll find 8 tips for creating a lovely setup for your baby playpen. We'll start with an essential foundational element: a playpen mat.
Buying the Playpen Mat
The foundation of decorating your baby playpen is the playpen mat. It's important to buy the right size playpen mat. The safety of your playpen is determined by a playpen mat that the baby can't get under, but is also large enough to cover the edges of the playpen, preventing the baby from bumping into them. You can optionally combine it with a playpen bumper to pad the sides of the playpen. This turns the entire playpen into a soft space where your baby can comfortably lie and feel cozy. To buy the right playpen mat, measure the dimensions. Always buy a proper playpen mat and not a regular blanket. A certain thickness and sturdiness are desired for the baby's safety in the playpen.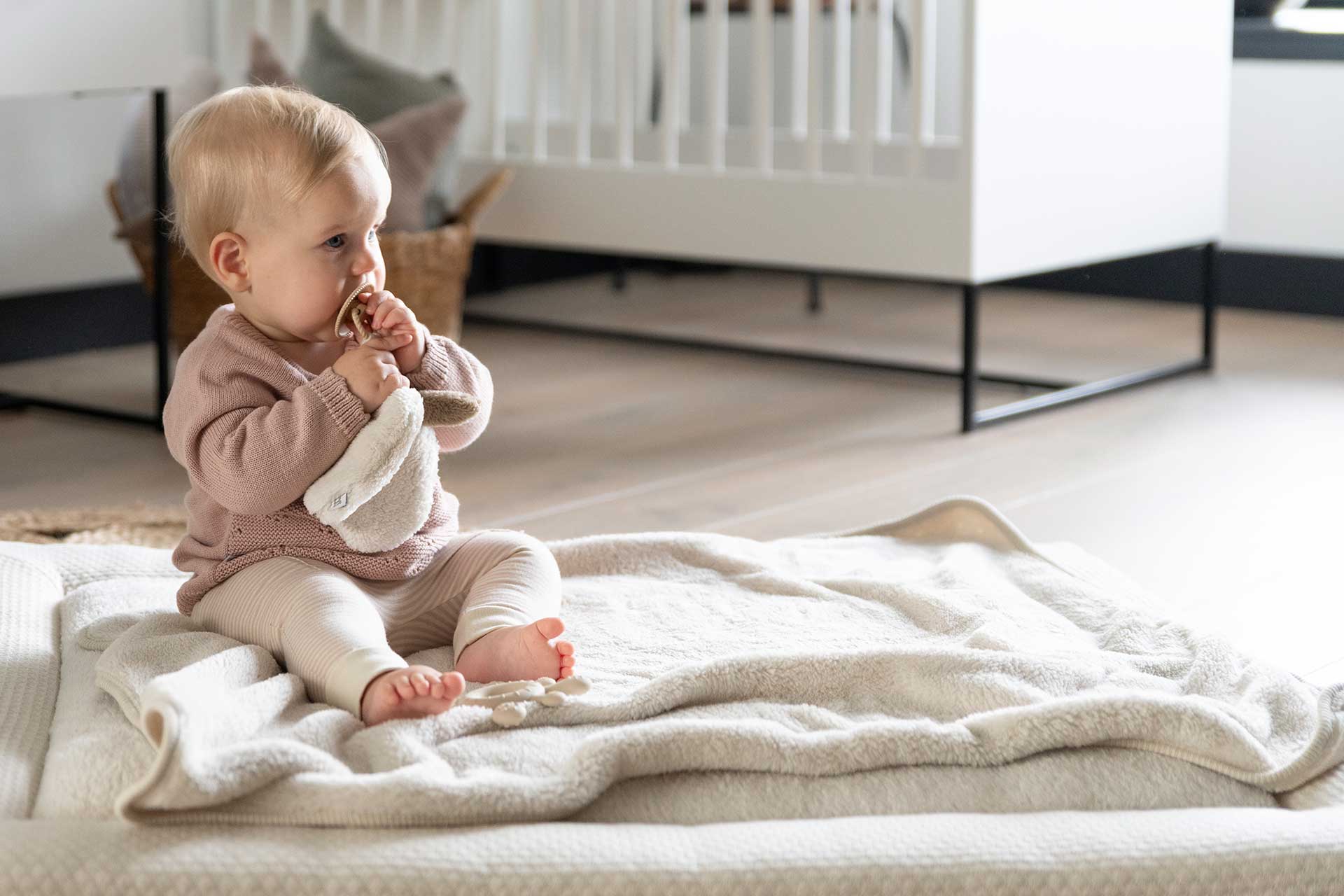 What are the dimensions of a playpen?
There are no standard sizes for playpens, but fortunately, there are a few commonly used sizes. For playpen mats, we have playpen mat 75x95 and 80x100. These are the most common sizes that fit in many playpens. The former is considered a small size, and the latter a normal size.
Playpen Mat 75x95
You choose a playpen mat 75x95 for playpens with a length between about 67 and 71 cm and a width of 92 to 93 cm. As you can see, this creates a small raised edge that prevents your baby from bumping into it. If you're making a playpen for your baby yourself, also adhere to these measurements. You can also opt for the larger size. We'll also provide more information about this.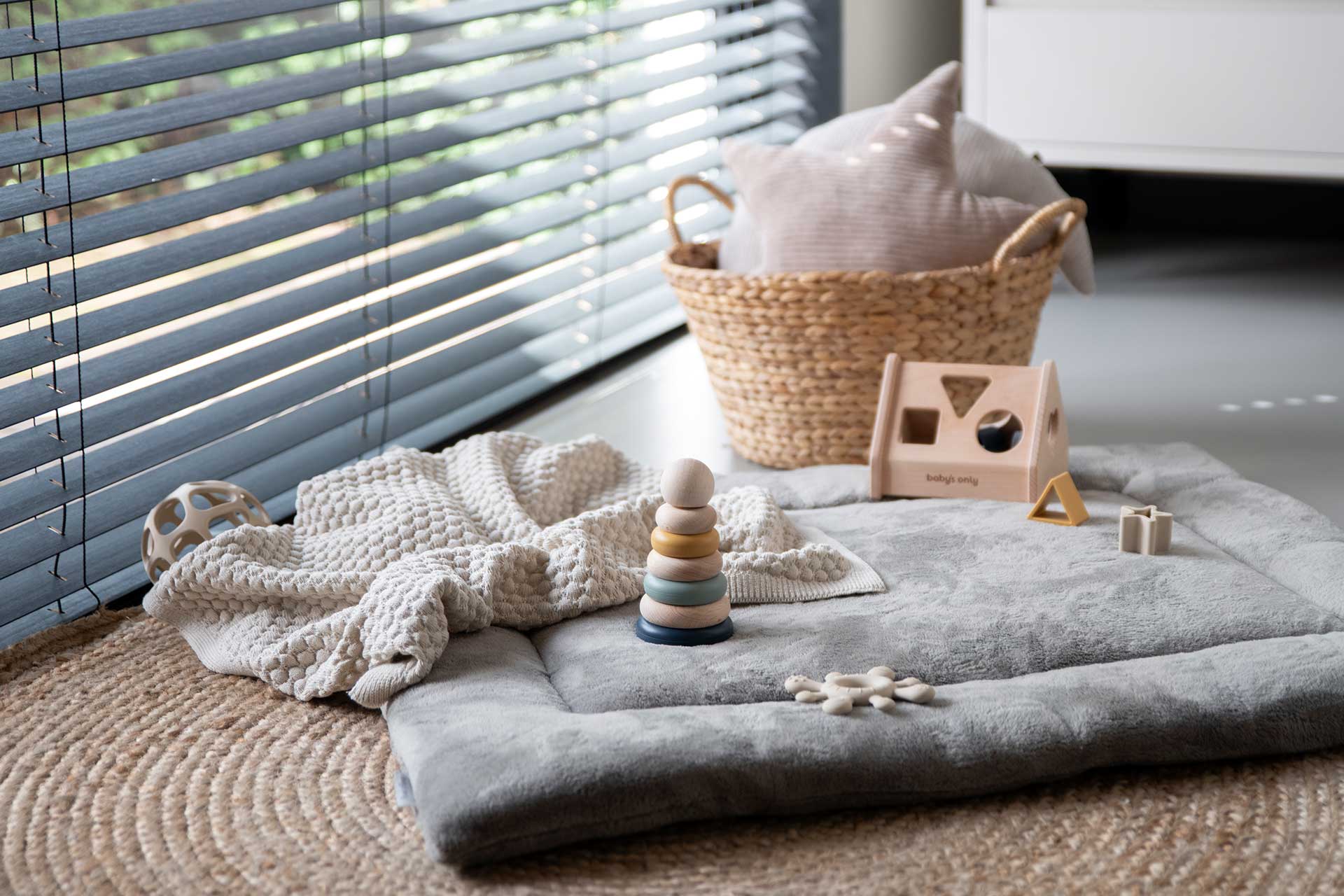 Playpen Mat 80x100
You buy a playpen mat 80x100 for a playpen with dimensions between 97x100 cm and 80x100 cm. With the latter, there is no raised edge since the playpen mat has the same dimensions as the playpen. A playpen bumper can solve this.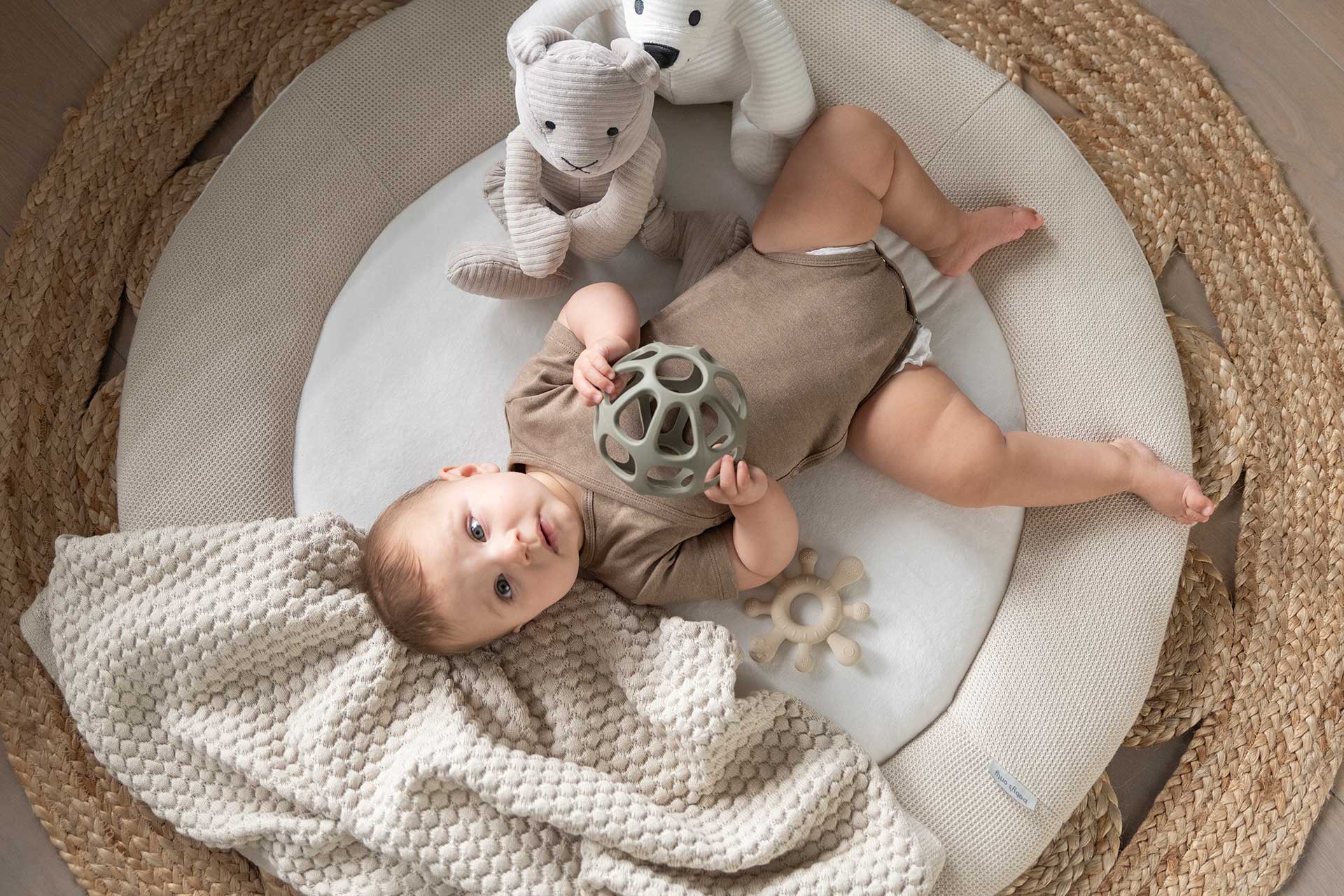 Round Playpen Mats
You buy a round playpen mat only if you also have a round playpen. Specific measurements apply to round playpen mats. Baby's Only playpen mats have a diameter of 90 or 95 cm. It's recommended to leave some room with these measurements as well.
Other Products from This Series
Tip 1: Choose a Nice Spot for the Playpen
Place the playpen by the window or in a quiet corner of the room. It's nice for your child to have a tranquil spot with plenty to look at. Especially in the first few months, the baby is too small to play and their field of view is limited. Anything you place within their field of view will be highly intriguing to them. Therefore, consider hanging a hanging mobile above the playpen.
Tip 2: Hang a Mobile Above the Playpen
As mentioned in the previous tip, visual engagement is important for your baby. A mobile allows your child to watch the cheerful moving figures. Additionally, a mobile produces pleasant sounds and the figures appear to dance. A mobile can be seen as the first baby toy, but certainly not the only one.
Tip 3: Toys for the Playpen
You can place baby toys inside the playpen. At Baby's Only, we produce baby toys in different styles. Think of wooden baby toys or a rattle. By matching the styles across multiple products, you achieve unity and tranquility. This is also enjoyable for your child, as the familiar figure from the mobile is often available as a baby plush toy as well.
Tip 4: Don't Overcrowd the Playpen with Toys
For the baby's safety, avoid placing toys in the playpen during the first few weeks. As your little one grows older, you can introduce toys. However, avoid overcrowding the playpen with toys, and preferably avoid large stuffed animals that the baby could get trapped under. Even though a large teddy bear in the corner might look nice, if it poses a danger, it's better to introduce it later when your baby transitions to toddlerhood.
Tip 5: Choose a Beautiful Color Scheme
At Baby's Only, we strive to select colors that are pleasant for your baby to look at as well as for yourself. The stylish baby accessories come in multiple themes. If you're planning to create your own playpen or repaint an existing one, take inspiration from the various styles we've designed. Combining different styles is also possible, of course.
Tip 6: Install a Light Above the Playpen
With a wall lamp in the shape of a submarine, moon, rocket, or balloon, you can define the space around the playpen. You can easily create a dedicated kids' corner in the room. The soft light is pleasant to turn on during dark days, especially if the playpen is in a corner.
Tip 7: Purchase Multiple Playpen Mats
How long can the baby stay in the playpen? Most parents store away the playpen around the first birthday. This means that, in most cases, a playpen remains in the room for about a year. During this time, it's useful to have multiple playpen mats. Buy multiple playpen mats right away so you can easily wash them and always have a spare mat. Additionally, it's fun to switch them out.
Tip 8: Organize with a Playpen Bag
Finally, we recommend getting a playpen bag. With a playpen bag, you can store toys in a stylish, organized space. Hang it on the outside of the playpen. If you have more toys than can fit in one bag, consider buying a second one in the same or a matching color.