Styling the baby room is one of the most enjoyable highlights. As expectant parents, you naturally want to create the perfect baby room that is both stylish and functional. To assist you in decorating, we have compiled the colors, themes, and accessories for you. These are the baby room trends for 2023!
In terms of colors, earth tones are part of the baby room trends in 2023.
Think of colors like soft beige, warm brown, and terracotta. This color palette brings a lot of tranquility to the baby room, which is naturally lovely in your little one's bedroom. There are endless variations possible, from combining different earth tones to complementing them with accent colors like soft pink, light blue, or moss green.
Sleep: Focus on Comfort and Safety
When decorating your baby's room, the sleep environment is crucial. Make sure you invest in a quality mattress, breathable bedding, and safe sleep accessories such as a well-fitting sleep sack. A peaceful and comfortable sleep environment contributes to your baby's healthy development and helps your little one sleep better.
Baby Clothing: Practical and Stylish
When choosing baby clothing for the baby room in 2023, it is important to select practical and stylish clothing that is easy to mix and match. Think of soft, comfortable fabrics such as cotton, bamboo, and organic cotton. Neutral colors and prints are also popular so that the clothing is suitable for both boys and girls and easy to coordinate with other items.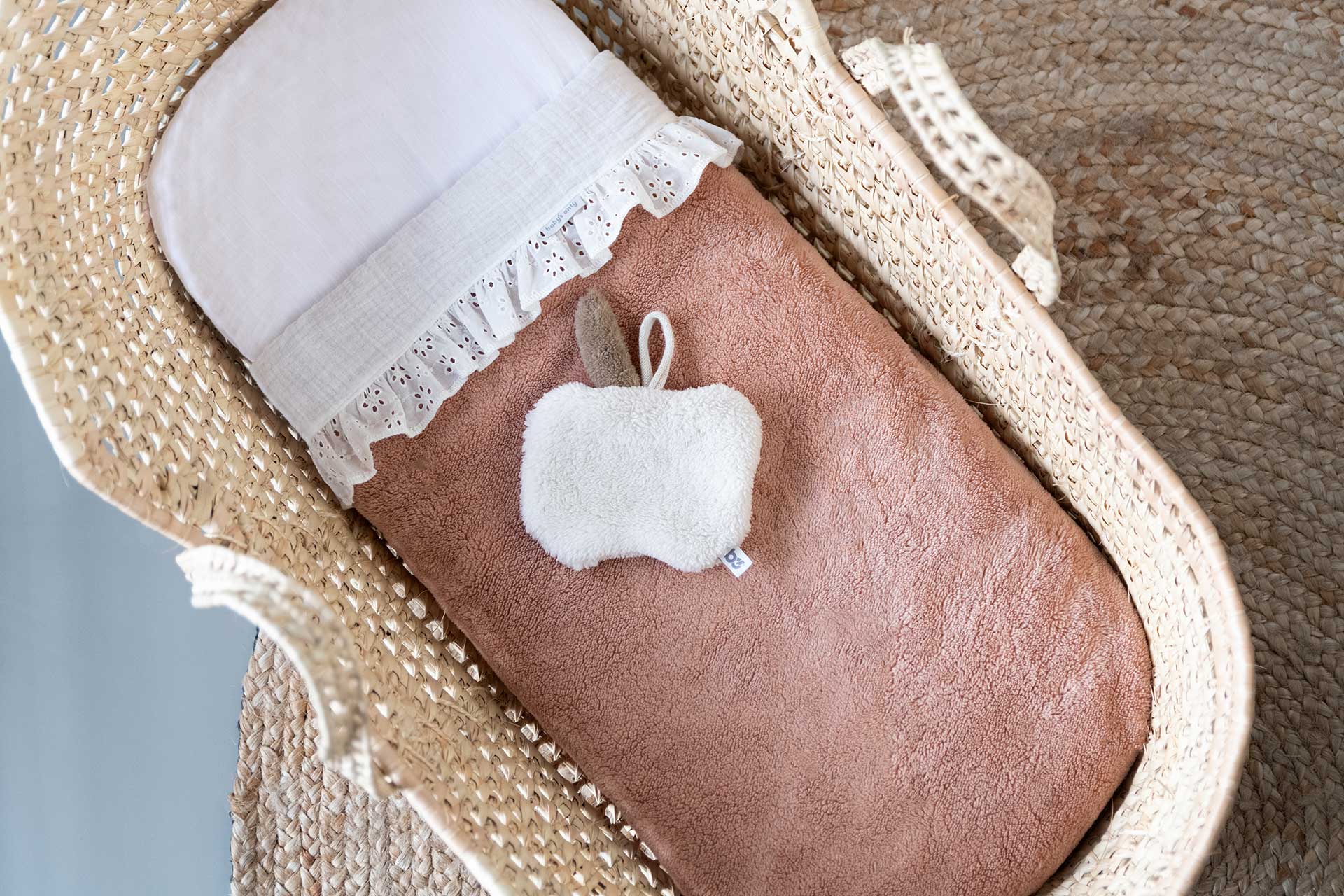 Another baby room trend in 2023 is the nature theme.
More and more natural elements are appearing in the baby room. Think of furniture made of untreated wood, rattan cribs, and accessories made of natural materials such as wicker, bamboo, and jute. Together with calm earth tones, these elements create a warm and inviting feel in the bedroom.
Consider wooden furniture, wicker baskets, and cotton blankets. These materials give the room a warm and cozy atmosphere. Moreover, they fit well with the green trend we will also see, because what is more natural than green?
In terms of themes, animals and adventure are popular in baby rooms.
Think of jungle or animal prints on wallpaper, wall stickers, or textiles. The adventure theme is also on the rise, featuring mountain landscapes, world maps, and adventurous accessories such as teepee tents, binoculars, and compasses. These themes stimulate your little one's imagination and curiosity and create a playful and cheerful atmosphere.
Accessories: Sustainable and Eco-Friendly
The trend of sustainability and environmental awareness continues in 2023, even in the baby room. Choose accessories made from recycled materials, such as rugs, cushions, and toys. There are also more and more brands using organic and eco-friendly fabrics for bedding, blankets, and clothing. By choosing sustainable products, you contribute to a better future for both your child and the planet.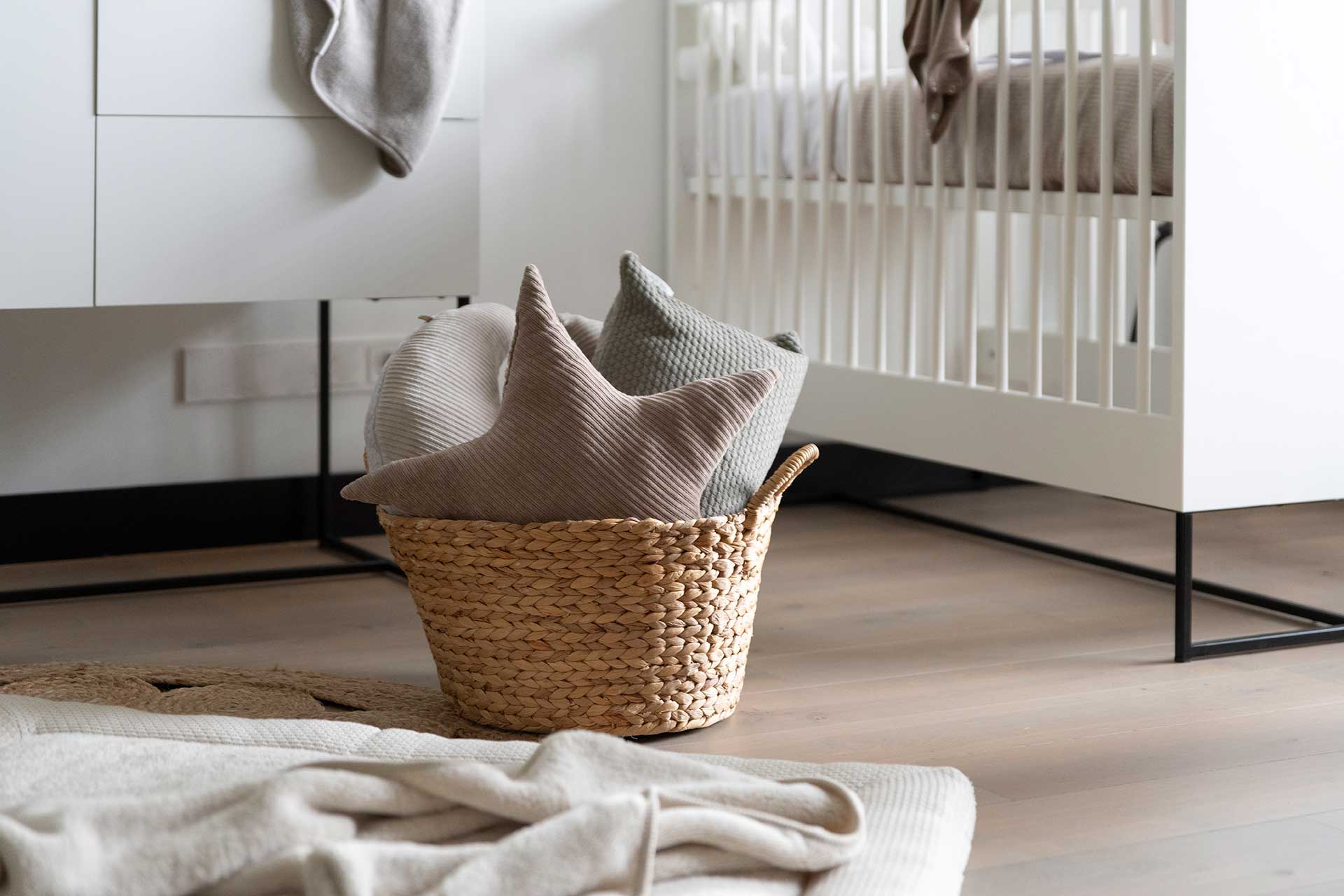 Smart Storage Solutions
When decorating the baby room, storage space is essential. Ensure an ample supply of storage options such as cabinets, shelves, and storage bins to keep the room tidy and organized. Smart storage solutions, such as hanging organizers, drawer dividers, and multifunctional furniture, help you make the most of the space and have everything within reach.
Storage and multifunctional furniture play a crucial role in creating a stimulating and organized environment for your child's development. A clutter-free children's room not only provides peace and order but also helps your baby concentrate better on exploring and learning new skills.
Using multifunctional furniture is not just a trend in 2023.
Multifunctional furniture, such as a changing table that can also be used as a desk or a crib that can be converted into a toddler bed, contributes to the room's flexibility. This allows the room to grow with your child and remains attractive and challenging as your child gets older and develops new interests.
Furthermore, you can store items by using a baby box bag, storage baskets, changing table baskets, among other things. These encourage your child to explore, play, and learn independently, positively impacting their cognitive, social, and emotional development.
Adding a Personal Touch to the Nursery
It is important to give the nursery a personal touch through decoration. Choose accessories such as wall decor, pillows, and stuffed animals that match the chosen color scheme and theme. Additionally, you can make the room extra special by adding personal items such as a nameplate, a picture frame with a sonogram, or hand and footprints of your baby.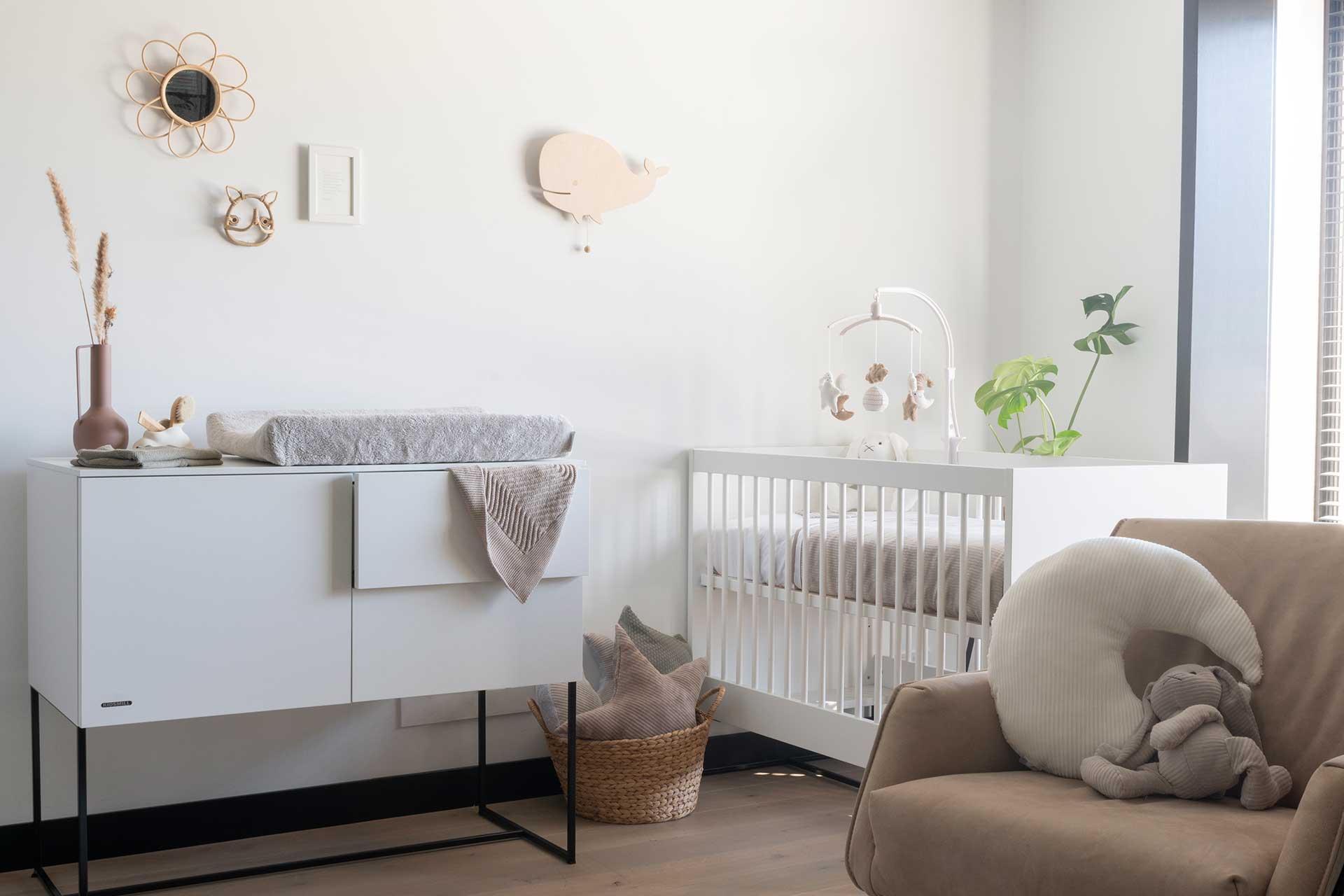 There is also a trend in accessories.
We are increasingly seeing pendant lamps in the shape of animals or plants. These lamps instantly add a playful and cheerful accent to the room. Wall shelves are also becoming more common in the baby room. These are not only practical for storage but also instantly add a cozy atmosphere to the room.
Other products in this series
Find the Latest Baby Room Trends at Baby's Only
Have you been inspired by these baby room trends for 2023? Start planning and decorating the perfect baby room for your little one now! Explore our wide range of furniture, accessories, and decorations in our online shop. We are happy to assist you in realizing your dream room. Order today and benefit from our fast shipping and excellent customer service. Create a beautiful and comfortable place in the nursery where your child will feel completely at home.
What are you waiting for? There are plenty of trends to choose from when decorating your baby's room. Whether you opt for a calm, natural atmosphere or a striking art deco room, there is something for everyone. The most important thing is to choose an atmosphere in which you and your child feel comfortable. Be inspired by these trends and create the perfect nursery for your little one!