Maternity skirts
Comfortable and chic. That is certainly possible with the Baby's Only maternity skirts. The long maternity skirt is available in neutral tints and is made of a great stretch material. Thanks to the sturdy material, your curves are beautifully accentuated and it fits well during every phase of your pregnancy. Combine our maternity skirt with a knitted wrap or a maternity vest to complete you outfit.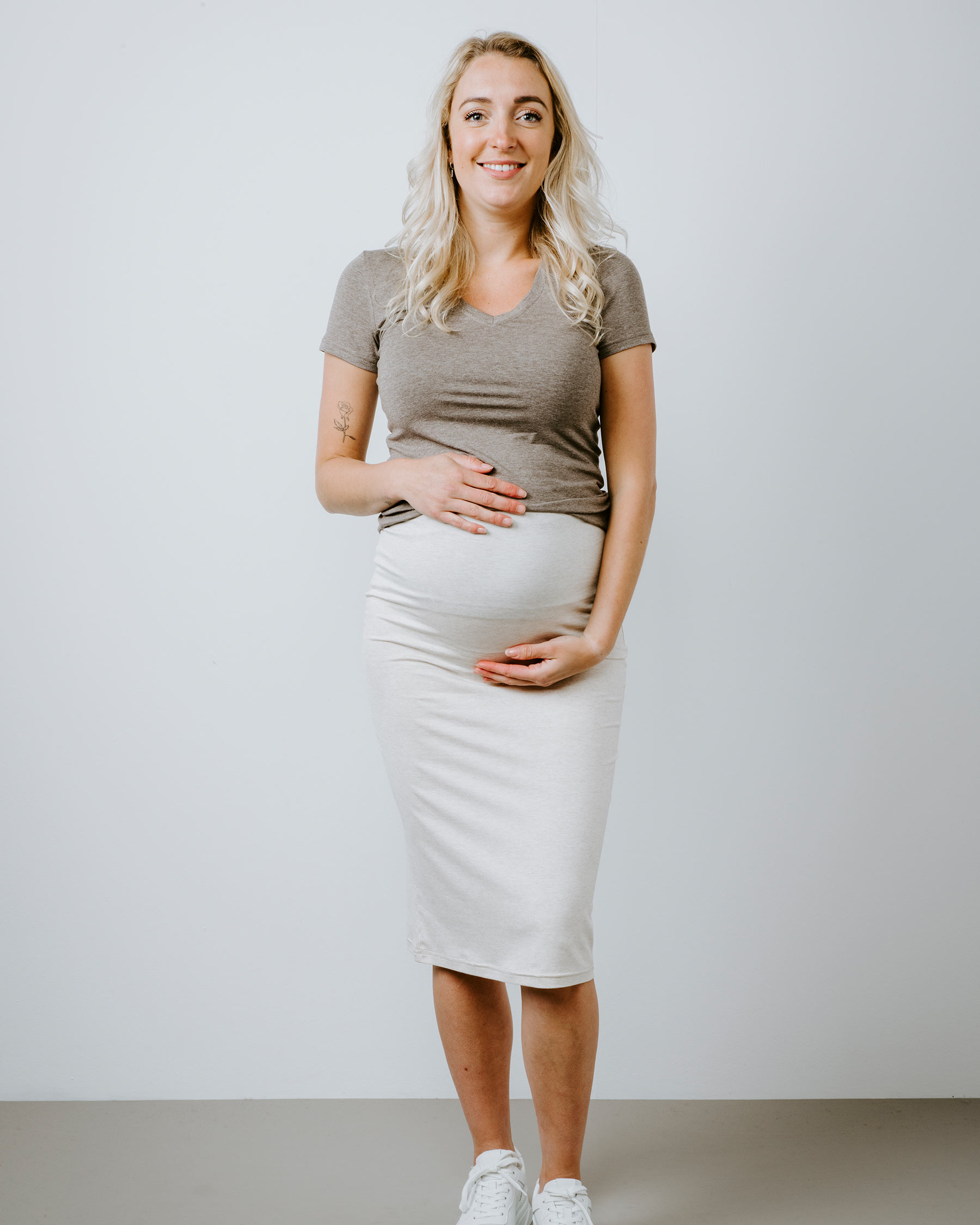 Maternity skirts from Baby's Only
Discover the comfortable maternity skirts from Baby's Only made of soft viscose. These skirts are not just fashionable, they also offer optimal wearing comfort during your pregnancy. With their flattering fit and elastic waistband they will perfectly fit your growing belly.
Neutral toned maternity wear
Our maternity skirts are available in a plethora of neutral tones, making it so you can easily combine them with different tops and cardigans from our collection. Whether you're going for a casual or a more formal look, combined with our skirts you can change your look endlessly and really bring out your personal style.
Viscose skirts
The use of high-quality viscose makes it so that the skirts are not just soft to the touch, they are also really breathable. This is especially important during the pregnancy, when your body needs extra comfort and cooling. The elastic waistband grows along with you and offers support without feelings of pinching or squeezing.
Trendy maternity wear from Baby's Only
Combine our maternity skirts with a matching top and cardigan from our collection for a complete and stylish look. Our designers made sure that the items fit perfectly when combined together, so you can effortlessly create a coordinated outfit. Whether you choose a more timeless and modest look or if you would rather play with a variety of textures and prints, with Baby's Only you will always find something that matches your taste.
Sustainable maternity wear
Next to style and comfort we also deeply value quality and sustainability. Baby's Only uses only high-quality materials and we make sure that all our clothing is manufactured with care. Because of this you can enjoy your maternity skirts without worries, knowing they last for a long time and keep their shape throughout.
Order from Baby's Only
Order your favorite maternity skirt now on our website and enjoy the convenience of online shopping. Treat yourself to the perfect mix of style and comfort, and shine during your pregnancy with Baby's Only.
Our blogs
Baby's Only is the ultimate lifestyle brand for babies. Get inspired and stay updated with our latest news. All articles written are part of Baby's Only collection.