Baby sleepsuits
The one-piece sleepwear is made of soft knitting, made of 100 % organic cotton. In these comfortable baby sleepsuits, your baby is free to crawl around, roll over and play. Your baby will love to wear the suit. Great to combine with our baby accessories.
Filter within
Baby sleepsuits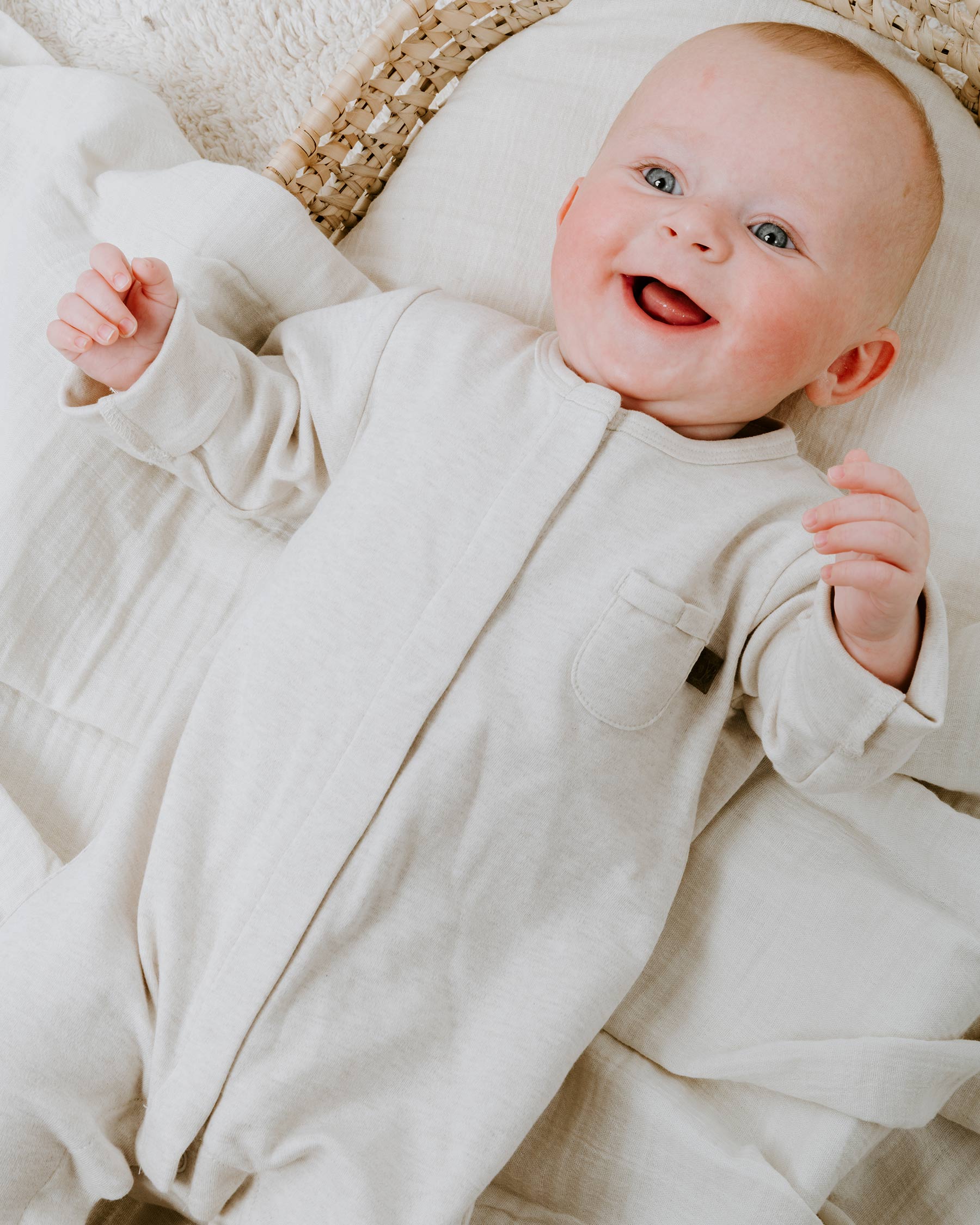 Sleepsuit, bodysuit, jumpsuit, crawl suit, baby suit
There are many names for a sleepsuit. It is also called body suit, baby jumpsuit, baby romper or crawl suit. The top piece is attached to the trouser piece, making it a single garment. This gives the advantage that dressing, undressing and changing your baby becomes very easy. It also makes sure that nothing can crawl upward when your baby is sleeping, rolling and playing. When it's a little colder, you can put on socks underneath the sleepsuit and in summertime it's lovely to go barefoot. Baby sleepsuits can be worn all day long. At night, the baby sleepsuits often serve as pyjamas and during the day it is a comfortable suit for in the cot.
Baby's Only baby sleepsuits
Baby's Only baby sleepsuits have a timeless design. The neutral and mild pastel colours allow them to be worn by both boys and girls. The super-soft knitting makes them very comfortable. The baby sleepsuits are known for their high quality and great fit. They are washable, colour-fast and shape-retaining. This is practical, for baby sleepsuits will become dirty quickly, causing you to have to wash them often.
100 % organic cotton baby sleepsuits
All Baby's Only clothing is made of 100 % organic cotton. The sleepsuits are part of this clothing line. The cotton of which a sleepsuit is made, has not been treated with pesticides and other chemicals. Organic cotton is softer, not only in structure, but also for the skin. This reduces the risk of skin irritation and eczema for your baby.
Giving a sleepsuit as a gift
Baby clothing is always a great gift when visiting a new mom. What size suit you buy as a (maternity) gift depends on the age of the baby. In general, baby clothing as a present is given in sizes 50 or 56. You can also decide to buy a bigger size, so that a nice sweater will be ready when the baby has gone through his or her first growth spurt. It doesn't take babies long to grow out of their first clothes. It will be nice then to have a sleepsuit in a bigger size ready and waiting.