Baby sweaters
These short-sleeved and long-sleeved baby sweaters are made of super-soft knitting. The sweaters are comfortable and keep your baby nicely warm. Pair it with a knitted baby sweater and knitted baby pants and you'll have a beautiful baby outfit.
Filter within
Baby sweaters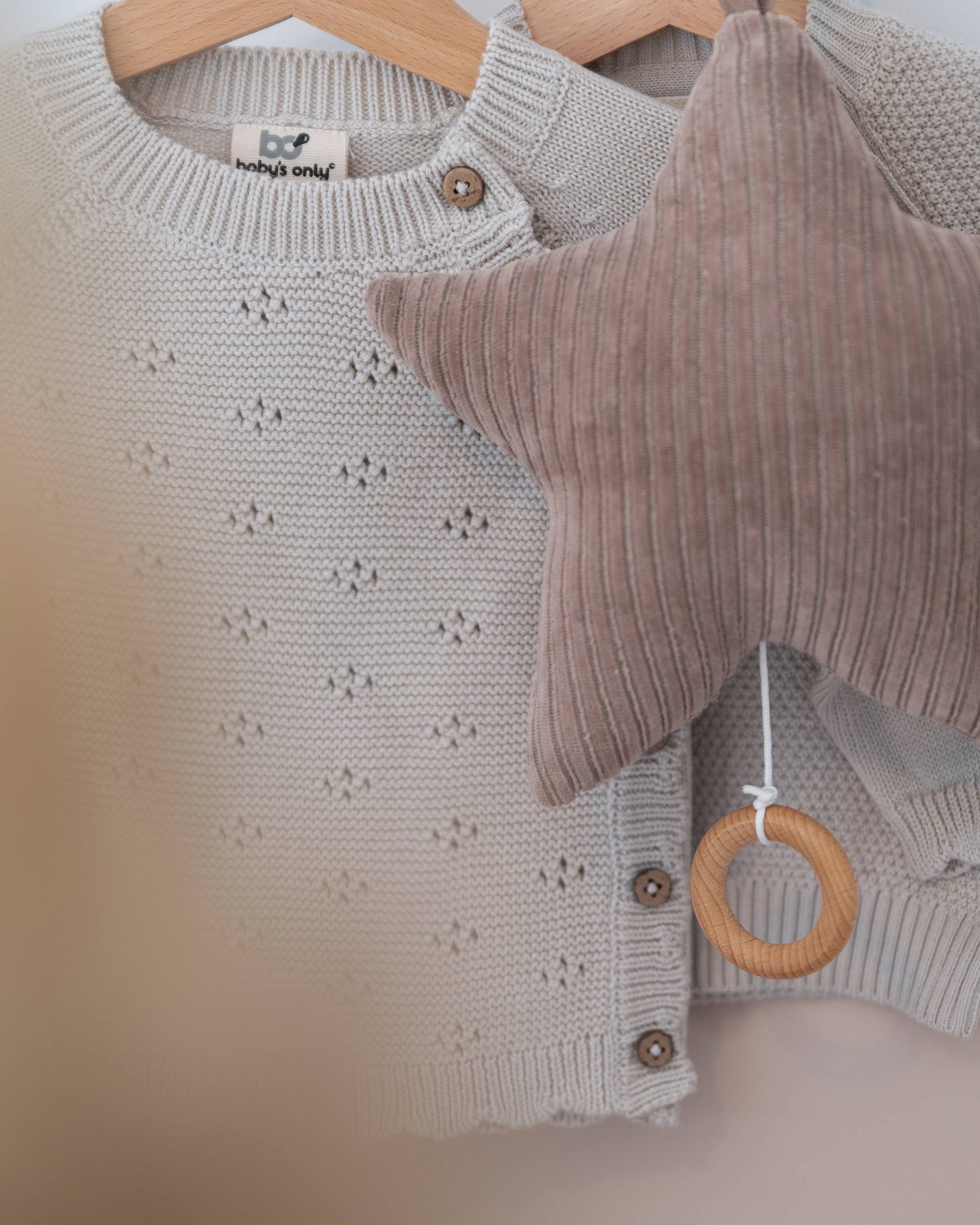 Baby's Only sweaters
Combine beautiful with functional. Of course, baby sweaters are mainly intended to keep your baby nicely warm. But it is a great bonus if the sweater looks nice. Baby's Only baby pullovers are known for their beautiful look, high quality and great fit. They are washable, colour-fast and shape-retaining. The super-soft knitting makes the baby sweaters very comfortable. Your child will love to wear the pullover. The sweaters can be worn all year round. They are available with long sleeves or short sleeves
Giving a baby sweater as a gift
Baby clothing is always a great gift. What about a nice set, combining a sweater and baby pants? Or what about a baby pullover and a romper? In the Baby's Only clothing line, the beautiful knitting patterns and the mild pastel colours match seamlessly. What size sweater you buy as a (maternity) gift depends on the age of the baby. A lot of baby clothing is given in sizes 50 or 56. You can also decide to buy a bigger size, so that a nice pullover will be ready for the next growth phase.
Organic baby sweaters
Baby's Only sweaters are made of 100 % organic cotton. Because of this, they can carry the title of organic baby clothing. This means that the cotton, with which the baby clothes have been made, has not been treated with pesticides and other chemicals. Organic cotton is softer, not only in structure, but also for the skin. This is why wearing organic baby sweaters reduces the risk of skin irritation and eczema for your baby.